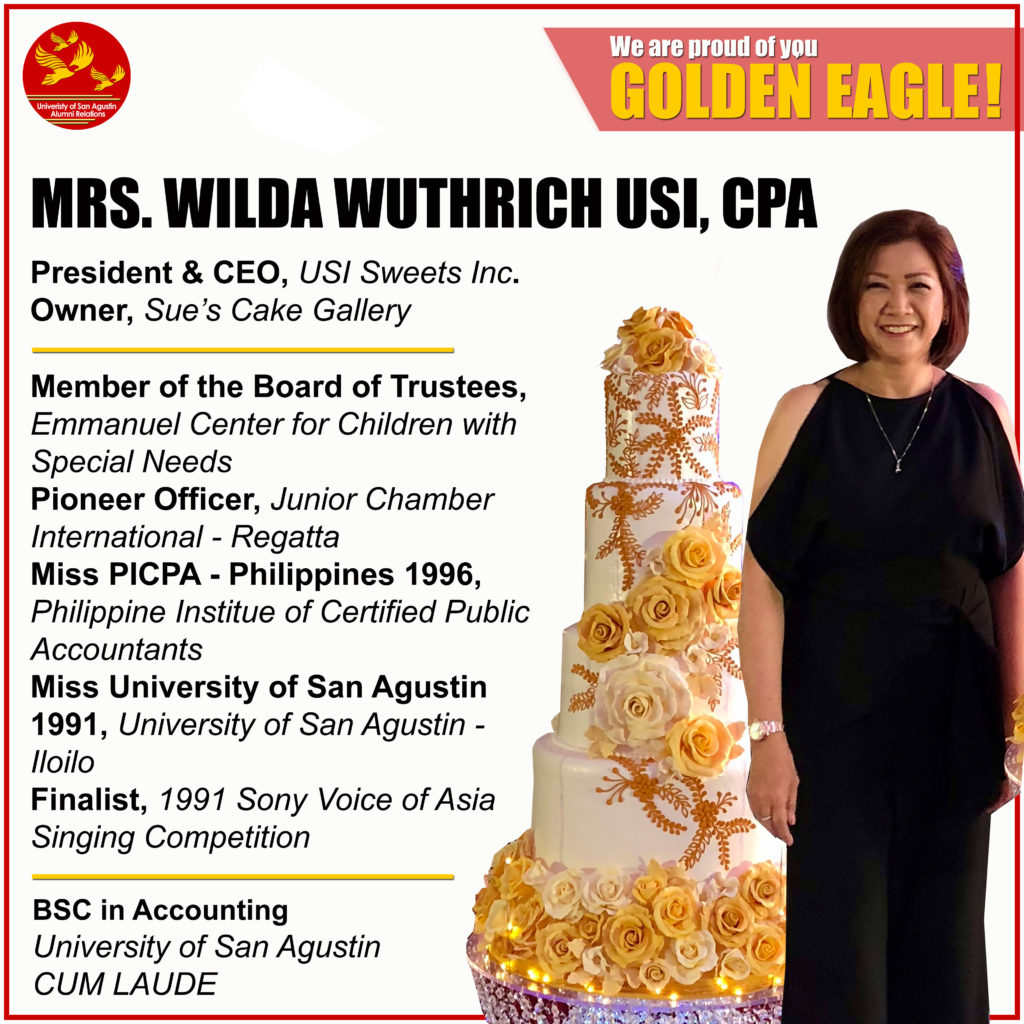 Meet our Miss USA 1991!
Our featured Golden Eagle is an epitome of an Augustinian empowered woman with beauty, brains, and talent. She graduated in 1991 as Cum Laude in her course, BS Accountancy, and was, at the same time, the crowned Miss USA. She was a member of the famous USA Debating Team which won as the Champion of the Bombo Radyo Inter-School Debate competition. She also served as President and officer of various school organizations. She is Mrs. Wilda Wuthrich Usi.
Before practicing her profession, she was one of the 12 finalists of the 1st Sony Voice of Asia Singing Competition in 1991. She was the only finalist without a professional talent manager as the competition was open to even the known personalities of the music industry back then.
She pursued her profession as a Certified Public Accountant by starting as an Auditor of SyCip, Gorres & Velayo, the leading auditing firm at that time. After her stint at SGV, she transferred to SM Iloilo and was the Accounting Manager of its subsidiaries in 1993. She was crowned as the 1996 Miss PICPA Philippines (Philippine Institute of Certified Public Accountants). In 1998, she gave up her lucrative career to take care of her daughter who was diagnosed with cerebral palsy and autism. During this time, she involved herself in the cause of children with special needs and became a Board of Trustee of the Emmanuel Center for Children with Special Needs since 1999. From being an Accountant, she transformed herself to become a successful entrepreneur. In 2011, she bought Sue's Cake Gallery from its original owners who migrated to Canada. From a single store specializing mostly in customized cakes, she was able to grow the business to what it is now. After a decade of running the business, Sue's Cake Gallery now has 5 branches located in the different malls in Iloilo supported by a state-of-the-art commissary. Wilda was also able to expand its product line offering to include delectable cakes to go and other pastries known for its quality and taste, yet reasonably-priced. She always wanted to build a cake brand that Ilonggos can be proud of and we believe that Sue's Cake Gallery was able to achieve that as it continues, to paraphrase its tagline, to put a smile in life's most important occasions. As an employer, she is much-loved by her employees as she always thinks of their welfare especially during these times of the pandemic. She considers herself successful only if her employees also improve their quality of life. She gives them additional compensation and benefits on top of what the government requires. She is also the President and CEO of her newly-incorporated company, USI Sweets Inc.
Despite her busy schedule as an entrepreneur, Wilda is also very active in community work that creates a positive impact in the lives of other people and the community she lives in. She was a pioneering officer of Junior Chamber International Regatta where she chaired a lot of its major programs focusing on Religious Welfare, Persons with Disabilities, Youth Empowerment, Environmental Protection, and Livelihood Programs which won her as the Most Outstanding Project Chairperson during the JCI Philippines National Convention in 2010. Her Project, Pinoy Icon which is the Search for Modern-Day Ilonggo Heroes was adjudged as the Best Community Development Program during the 2010 JCI Asia Pacific Convention. In 2017, She served as the President of Assumption Iloilo's PTA and instituted meaningful projects which benefited the students, the parents, and the whole Assumption community.
Wilda is a believer of what St. Augustine said, "my heart is restless, until it finds rest in God." She is currently the Head Servant Leader of the Santa Maria Prayer Community, a Catholic Charismatic Renewal Group based at the Jesuit-run Sta. Maria Parish in Iloilo City. Through her leadership, SMPC has planted the seed of faith to thousands of people through its Life in the Spirit Seminar, Marriage Encounter, Singles Encounter, Solo Parents Encounter, Family Encounter, and Growth Teachings. She is a regular life testimony sharer on God's Love during SMPC's Life in the Spirit Seminar.
Indeed, Wilda owes to her Augustinian education and upbringing the values and principles that she lives by as an entrepreneur and a woman servant of God.