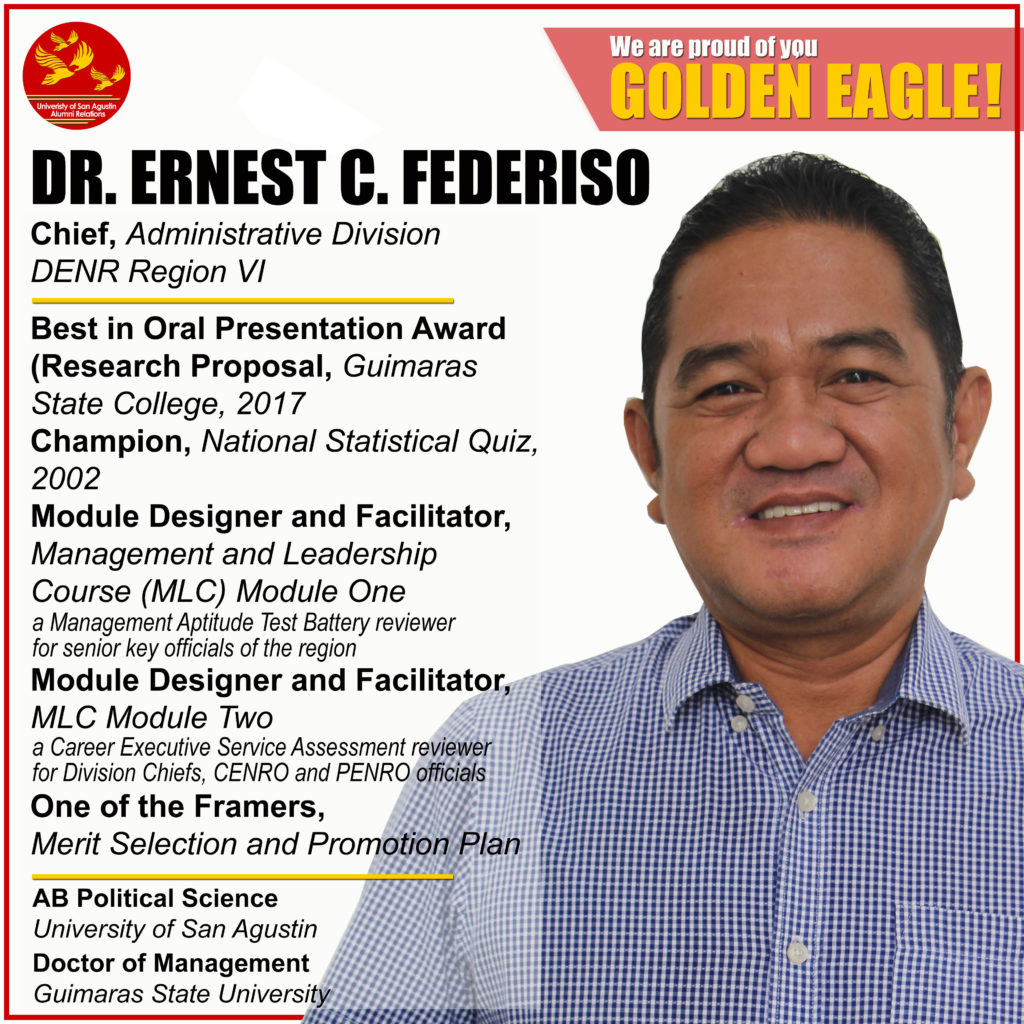 The Chief of the Administrative Division of Department of Environment and Natural Resources (DENR) in Western Visayas, started his government career as Administrative Officer II of the Municipality of Miag-ao, Iloilo from 1993 to 1996. He was reemployed as Human Resource Management Officer I of DENR PENRO Negros Occidental in 2002. Due to his fine leadership skills acquired from transitioning into the various roles from Chiefs of the Personnel and Human Resource Development Sections, he honed his career direction for almost 15 years with expertise and experience in the field of human resource management until he was promoted to his present position in 2018. Through these years, Mr. Federiso displays the ability to learn fast and a determination to always broaden his skill sets. He is a self-motivated person and somebody who is a pleasure to work with. He demonstrates superior ability and produces work outputs of exceptional quality. He never runs out of innovative ideas and methods which drawn and woven from lessons of the missteps he learned.
A person who frequently takes the initiative to identify areas for improvement and a great enthusiasm for learning to further advance his expertise, Mr. Federiso pursued his Master in Public Administration at Guimaras State College and graduated in 2016 where he was accorded the "Best in Oral Research Presentation Award" and also obtained his Doctor of Management major in Public Management in 2020 from the same institution. He has been a good coach to his staff in the DENR, believing that no one has the monopoly of bright ideas and concepts. He encourages and helps personnel to pursue new learnings and professional development opportunities. Mr. Federiso always takes time to share his newly acquired knowledge with his staff.
In recognition of his leadership and hard work, he was commended for leading the activities during the region's hosting of four (4) national events and the International East Asian Seas (EAS) Congress in 2018 and the First ASEAN Bamboo Congress in 2019. His EAS Congress efforts earned recognition and accolades from DENR Central Office and other regional offices and partner agencies. He also recruited and organized DENR 6's pool of liaison officers who trained under the Carlos P. Romulo School of Diplomacy of the Department of Foreign Affairs (DFA) to efficiently and competently handle the hosting of international events.
Early on, he was the recipient of DENR Performance Award as Best Performing Employee from CYs 2014 to 2016 and Best Performing Leader for CY 2016.Having worked at DENR for more than 20 years, he displays a high level of institutional knowledge and thus championed his membership in the various Committees of the Department. He is the brainchild and the prime mover behind the DENR VI's Program to Institutionalize Meritocracy and Excellence on Human Resource Management (PRIME-HRM) Bronze Award being compliant with Level 2 Maturity Indicators of the four (4) core HR Systems in the areas of Recruitment, Selection and Placement (RSP); Learning and Development (L and D); Rewards and Recognition (R and R); and Performance Management (PM). In the region, DENR is among the first three (3) national government Committed to producing work that meets high standards, he is always looking to improve the quality of his deliverables. He frequently goes above and beyond in his efforts to ensure quality outputs and work performance that exceeds standards and expectations. He is a motivated and conscientious employee who takes pride of his work.