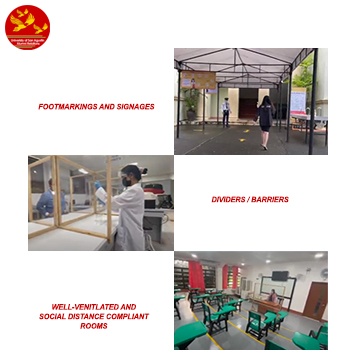 The University of San Agustin steadily thrives in this pandemic through various efforts to elevate its services for its students and other stakeholders. The Commission on Higher Education recognized the actions of the University just recently through its approval of the Bachelor of Science in Nursing and Bachelor of Science in Medical Laboratory Science limited face-to-face setup.
In compliance with CHED's requirements for the said approval, the University has been marked all over with arrows and signages to direct the traffic within its premises, abiding by the required internal one-traffic flow. Appropriate dividers were also put in place in classrooms and other areas that necessitate such materials to see the social distancing during classes. The University also strictly complied with the 30% student capacity, use of facemask and face shield, and checkpoints and monitoring areas.
Our Alma Mater is not taking any chances with this pandemic. While upholding its promise of providing academic excellence to its students, their safety and those of the employees and other stakeholders remain its top priority.